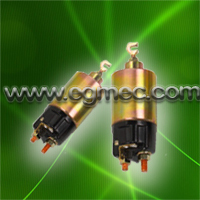 The purpose of classification in a variety of machine tools and automatic control equipment, primarily used for traction or traction magnet repulsion other mechanical devices, in order to achieve self-control or remote control purposes. Traction magnet can be divided by the rated voltage of 36V, 110V, 127V, 220V, 380V and so on, according to the frequency of the coil to attract into 50Hz, 6011z.

There are currently commonly used in traction magnet MQ1, MQ2, and MQ3 three series:

MQ1 Series solenoid coil for the AC single-phase-free casing end hook, pull and push sub-two, the armature is no reset device, by weight or with the external mechanical force on the coil power reset. Fear from the silicon conduction solenoid magnet yoke and the armature into the composition, use the yoke mounted on the mounting bracket. Classes for electric driving iron armature with a tip and pulled the child will be connected to the tow bar; for the promotion of solenoid, stop by the ejector plate and pushed out to the rated travel distance, when the coil is energized, the armature through the connecting rod suction timely (or putting) to drive by the operating agency.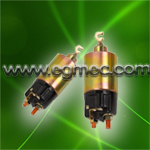 MQ2 series is single-phase AC solenoid direct-acting spiral-shaped bamboo structure, and a pull and push two. When used, the iron briefly fixed on the stent, while the armature is connected by a white pole in traction. When the coil is energized, the armature is attracted and connected through a connecting rod driven sector.
MQ3 Series AC electromagnet structure of single-phase direct-acting solenoid structure, sub-push-and pull two kinds of dual-use, the installation can be divided into vertical mounting, horizontal mounting (only for small, medium and derived products) and dual-use vertical and horizontal installation (for micro) three.