American Thread Introduction
American Thread Introduction
2012-11-26 10:42:48
1864 Years, Americans Willie. Rudolf Seiters (Willian Sellers) reference to United Kingdom Wyeth threaded standard sets out United States country threads (n). This two species thread in diameter and pitch series and tolerances aspects is similar, but United States national thread of teeth type (teeth type corner for 60, flatted parallel Shanks height for H/8) different Yu Whitney's thread teeth type (teeth type corner for 55, flatted parallel Shanks height for H/6) in United States industrial effects of area and industry, beauty national thread are broad application
.
In the second world war, as thread standards used by the Allied Coalition forces are not unified, logistical difficulties to the Allied Coalition forces resulted in serious economic losses and casualties. Just after the second world war, United States United Kingdom and Canada and other allies immediately proceed to develop unified thread standard between allies, in 1948 year enacted a unified thread standard.
Due to United States of economic strength and military strength in Allied within accounted for led status, therefore unified thread main is pursuant to United States national thread standard and developed of, unified thread code "UN" of prior a letters "U" comes from allies between of " unified "; next word a letter "N" comes from United States national thread of code "N", since then, the unified thread begun crowding out United Kingdom of Wyeth thread original market.

UN Constant pitch series unified thread
UNC Coarse thread series unified thread
UNF Fine thread series unified thread
UNEF Super fine pitch series unified thread
UNS Special series of unified thread (dimensions and tolerances using the same standard series formula for calculating standard series of all combinations of diameter and pitch)
UNR End of arc teeth constant pitch series unified thread
UNRC End of circular arc tooth coarse thread series unified thread
UNRF Outs-arc teeth tooth series unified thread
UNREF End of circular arc tooth fine thread series unified thread
UNRS End of circular arc tooth special series unified thread
More than United States standards ANSIB1.1 Standard tooth type ( Teeth is flat or free at the end of round ) Inner and outer thread End of circular arc tooth of the UNR, UNRC, UNRF, UNREF and NRS Only used for external threaded without internal thread.
The American thread standard table as follow: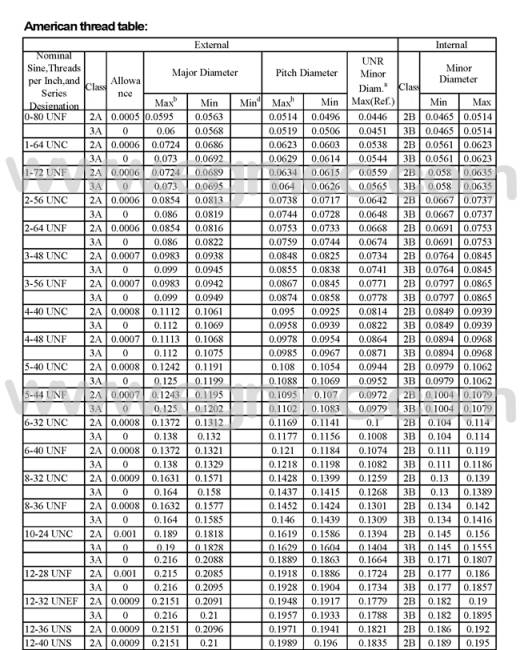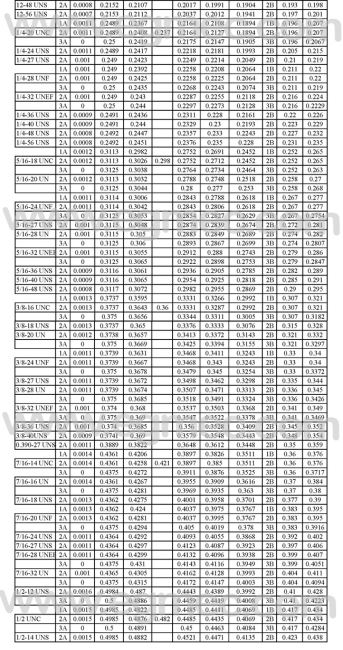 ---