BSP Threads Introduction -2
BSP Threads Introduction -2
2012-12-04 10:26:46
4. BSP Thread and its standard:
BSP Thread in English as British Standard Pipe Thread abbreviation, is the English inch pipe thread of this article says, and was consistent with the salutation for Chinese manual with inch thread. According to the introduction of relevant information, BSP thread there are two specifications for the different categories, namely BSPP and BSPT. Two threads are incompatible, are not interchangeable. BSPP and BSPT different sealing ring for former seal needs and ensure that the latter do not require or use only the appropriate sealant to ensure a more reliable sealing effect.
BSPP Pipe Thread table: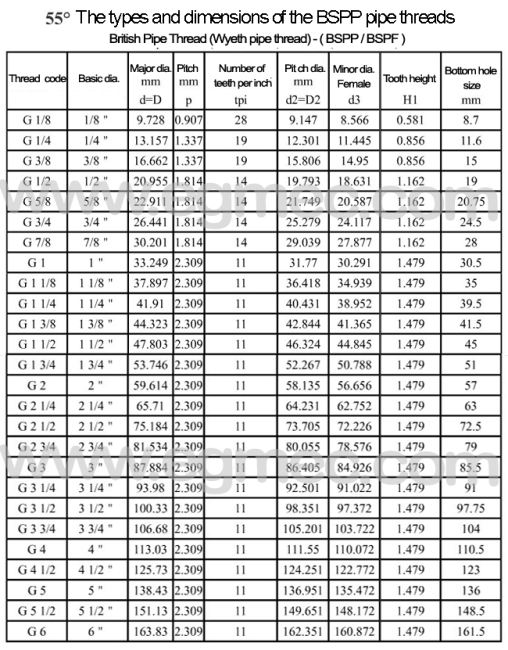 BSPT Pipe Thread table: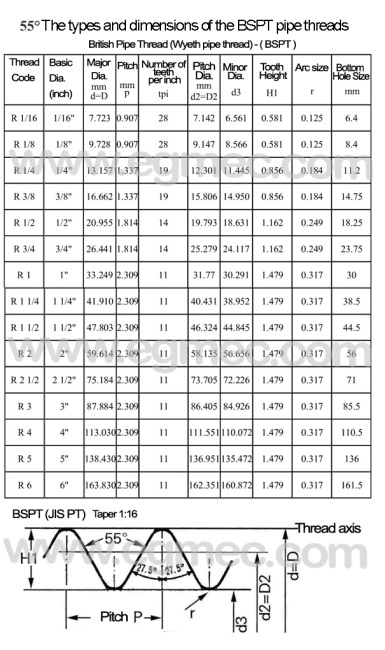 Relevant information about the BSPP BSP-Parallel Thread , that is, non-sealing pipe threads. BSPT BSPT-Tapered Thread of meaning, namely sealing pipe threads. BSPT understanding from the sealing pipe threads, relevant information and also 2000 years ago to develop ISO standards cone taper tie is no contradiction. Therefore,BSPP design time should refer to ISO 228-1 2001 provided, BSPT should be designed in conjunction ISO/T 7-1 1994 provisions, as China on these kinds of threads has been setting the standard for the appropriate. BSPP design may reference GB/T 7307 2001 provisions, BSPT should be designed in conjunction GB/T 7306.2 2000 requirement.
5. BSP Pipe thread marking methods:
China pipe thread tags using marking methods with the same international standards. ISO 228-1 requirements, characteristics of non-seal pipe thread code for g, internal and external thread the same. ISO/T 7-1 requirements, characteristics of tapered sealing pipe threads, code-named, matched with conical sealing appearance characteristics of threaded code for. In a feature code followed by the size identification, such as the g-1,r
c
1/R
2
1.
"G" and "r" mark respectively originated in France and Germany. French letter g represents gas "Gas", German r represent ducts "Rohr" ("Pipe"), in which r subscript c on behalf of cone-shaped "Cone ". English non-sealing 55
.
Pipe thread expressed as Pipe threads of Whitworth form-Fastening pipe threads, sealed 55
.
Pipe thread expressed as Pipe threads of Whitworth form-Sealing pipe threads.
6. Conclusions:
Therefore, BSP threaded discussions should be to seal pipe threads and on a non-sealing pipe threads. BSP thread is 55 degree thread angle of Wyeth (Whitworth form) pipe thread collectively. Australia current pipe thread standards as AS 1722:Part1 1992 and AS 1722:Part2 1975, respectively, equivalent to the international standards ISO/T 7-1 and ISO 228-1. In product design, based on the above standards or equivalent national standard design is correct.
After you have determined the thread you want to do, and then to select the thread gauge, to ensure that qualified the thread can reach 100%. Thread gauges in the of plug gauge is refers to measurement thread hole with of gauges, ring rules is refers to measurement thread axis with of gauges, straight tube of thread gauges are min pass and ended two pieces, is a, to tie using, pass end to just Rotary had by measuring of thread workpiece, ended end is up Rotary had two buckle half, such on by do of thread workpiece is qualified of. Taper pipe thread rule is a head, top level, upper and lower limit dimensions, respectively, as the base size in the middle. -Only one step, is only the upper and lower limit dimensions without base size, regardless of a few steps, as long as it is done in the middle of the step can be judged as threaded workpiece for qualified, have baseline sizes base sizes for the best.
---