The identification and conversion o...
The identification and conversion of various threads
2012-11-23 11:56:26
There are difference between metric and inches in the countries around the world, the difficulties and obstacles to the work, which all countries in the mechanical variety of thread , is one of the examples are now identify common thread conversion approach.
1. Identification of inch-unified thread
Inch system of unified threads, inch system widely adopted, the thread consists of three series: coarse thread series UNC , Fine thread series UNF , Extra fine thread series UNFF , Plus a constant pitch series UN.
Marking method: thread diameter-number of teeth per inch Series code-precision grade.

Example:
Coarse thread series 3/ 8 —16 UNC—2A
Fine thread series 3/ 8 —24 UNF—2A
Super fine pitch series 3/ 8 —32 UNFF—2A
Constant pitch series 3/ 8 —20 UN—2A
The first digital 3/ 8 Thread diameter, in inches, convert to metric units in mm multiplied by 25.4, namely 3/ 8 X25.4=9.525mm; second; third numbers 16, 24, 32 and 20 is the number of teeth per inch (in 25.4mm number of teeth on the length); after the third letter codes of UNC And the UNF and the UNFFand the UN for the series, and last two digits 2-a is a precision level.
Inch teeth of an unified thread type shown in the figure below.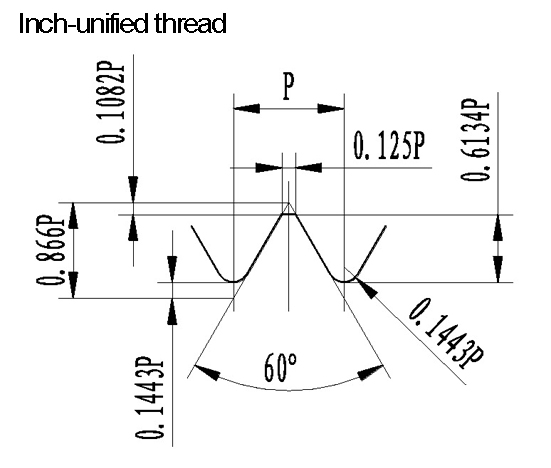 2. Transformation of 55°cylindrical pipe thread
55°Cylindrical tube thread, comes from inches system series, but m system and inches system national are broad used, for conveying liquid by, and gas and installed wire of tube connector and tubes of joins, however, states of code different, should by below table in the of abroad code transformation:
Country

CN

Japan

UK

France

Germany

The former Soviet Union

ISO

Code

G

G; PF

BSP; BSPP

G

R ( Female )

K (Male )

G

TP УБ

Rp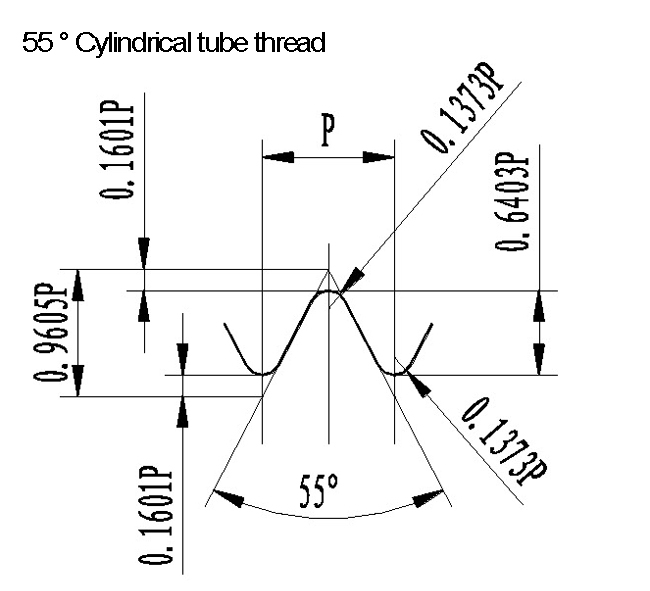 3. Transformation of 55°taper pipe thread
55°Tapered pipe threads, refers to the thread of the thread angle is 55degrees, thread 1:16 taper. Thread of the series widely used in the world, its code, States are different, see table below:
Country

CN

UK

France

Germany

Japan

ISO

Code

ZG

R ( male )

BSPT

R ( Male )

Rc ( Female )

G ( Male )

R ( Male )

R

(Male)

PT

R

R ( male )

Rc ( female )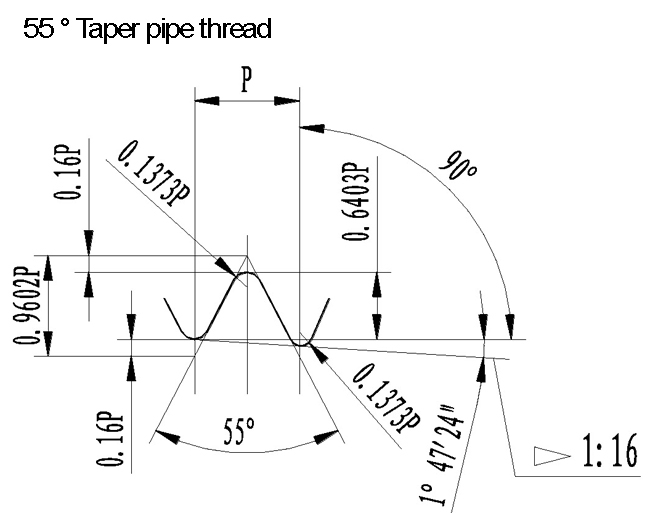 4. 60°taper pipe thread conversion
60°Tapered pipe thread is the thread angle is 60°, thread taper 1:16 pipe thread, thread in this series in the machine tool industry in China and the United States, the former Soviet Union. Its code, provided for in our past k, later defined as z, now changed to NP, the comparison of threaded code shown in the table below.
| | | | |
| --- | --- | --- | --- |
| Country | China | United States | The Soviet Union |
| Code | Z ( older ) NPT ( new ) | NPT | B |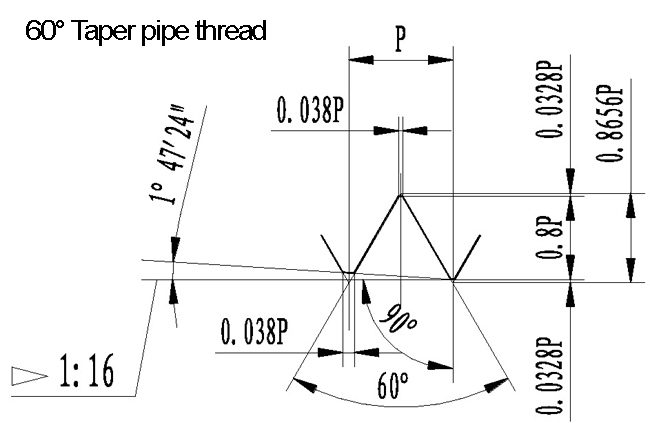 ---