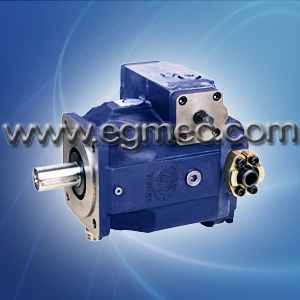 High pressure piston pump overview of the use of pressure plunger pump should normally be between 10MPa ~ 100MPa. It belongs to positive displacement pump, the working chamber with periodic changes in the volume to transfer the working oil liquid.
The capacity of the pump working chamber volume change depends only on the value of the change in the number of unit time, in theory, nothing to do with the discharge pressure. Reciprocating piston pump is by means of hydraulic cylinders working in the reciprocating motion of the cavity (or through the diaphragm, bellows and other flexible components in the working chamber of the periodic elastic deformation) to make the working chamber volume will periodically change. Structurally, the work of reciprocating pump chamber is separated from the outside with sealing device, through valve (suction valve and exhaust valve) or closed communication with the pipeline.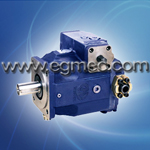 Features of a
High pressure piston pump:
1.Instantaneous flow is the pulse.
Because in the piston, the liquid medium of the suction and discharge processes are carried out alternately, and the piston in the displacement process, the speed it is constantly changing. In only one working chamber of the pump, instantaneous flow is not only change over time, and is not continuous. With the increase in the working chamber, the pulse instantaneous flow rate of less and less, and even the utility can be considered steady flow.
2. The average flow rate is constant theory, the pump flow rate depends only on the main structure of the pump parameters n (number of times per minute back and forth), S (piston stroke), D (piston diameter), Z (the number of piston), and the discharge pressure nothing to do with the transmission medium and the temperature, the viscosity and other physical and chemical properties not related. So the pump flow rate is constant.
3. High pressure piston pump pressure depends on the channel characteristics
High pressure piston pump discharge pressure can not be limited by the pump itself, but on the pump channel characteristics, and has nothing to do with the flow. That is, if that transport liquids are incompressible, then, in theory, could be considered reciprocating pump discharge pressure will not be any restrictions, you can pipe under the pump characteristics, the establishment of any required pump discharge pressure. Of course, all the reciprocating pump has a pump discharge pressure requirement, this does not mean that the pump discharge pressure will not rise, but only said that because the original motivation of rated power and the pump itself, the structural strength of the constraints do not allow beyond the use of this discharge has been under pressure.
4. On the transmission medium has a strong adaptability.
Piston principle can be transported in any medium, almost no media physical properties and chemical properties of the limit. Of course, hydraulic side sealing materials and manufacturing processes, and technology constraints, and sometimes can not adapt to the situation encountered.