Discussion On Backhoe Loader Techno...
Discussion On Backhoe Loader Technology Development In The World -4
2012-11-07 09:39:24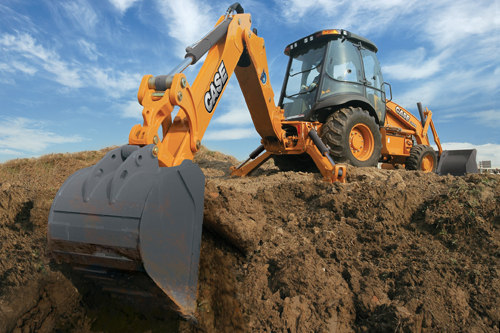 Case company:CASE backhoe loader of the company: the use of advanced technology and modern design method of a new generation of r series 580 and hyper- r series 590, r series uses TIER2 diesel engine, the power is 71KW/ 95HP, Super m series 695 -type with four wheel steering, the engine power to 82KW/110HP, product works the Steering and control unit for all models. introducing the case to the Chinese market new case M2 of backhoe loaders. M2 series including 580M, 580TuRBO, 580SuPERM and 590SuPERM four models, the engine power from 80 HP to 100 HP, these four models uses a new case of full compliance with the emission standards for a new generation engine. Case 580M backhoe loader is ideal for road maintenance, pipeline maintenance and repair of construction equipment, wheeled travel system and 40 km/h high speed flexible transfer between ensuring that workplaces. M- series backhoe loaders in addition to accurate control system unique to the case, all-weather air conditioning cabs, Omni-directional vision, midpoint-mining equipment and other advanced properties, versatility of its annex also provides highway maintenance package, plumbing repair programme and pipeline repair programme. Latest case M2 series is the case of innovative, durable and efficient traditional backhoe loader newest member of the family. Brand new engine, improve loading and digging performance,M2 series uses the case third-generation engines. Standards-compliant case third generation engine quieter than before, increase in engine displacement increased low-speed torque, significantly reducing fuel consumption, while reducing mining and mount the working cycle time, 500 hour oil replacement cycle means that spend less cost, less maintenance time, so you can have more time for production.
Case third-generation engines designed specifically for working in extreme weather. M2 series backhoe loader control system was further optimized mining one step more to be promoted. Casey's unique precision control system (PCSTM) has four patents, it allows the operator to excavator bucket accurately controlled in the expected location, allow the operator to conduct mining action when control has a good feel, makes it easier for operations, mining work cycle faster. If you stopped suddenly during the operation, "check system" buffers will boom, minimize excessive rotation, vibration and prevent material shades in the bucket. Mining backfill Rotary circuit power more, faster, midpoint-mining equipment to ensure that even with the bulk bucket has enough ground clearance. Enhanced loading and transmission performance, four-wheel drive equipped with limited slip differential on the rear axle, increasing traction on the ground, the M2 series backhoe loaders in rugged and ideal for the soft ground to work more efficiently. Design improvement of the loading mechanism, improved load performance, increases the level of mounting device outreach, improved handling of high capacity side loading compartments of trucks poured. More attachment, for you to choose from, Keyes M2 series backhoe loader can be configured more than 25 kinds of attachments, greatly improving the equipment's versatility and range of applications.
Anti-roll (ROPS) shed and two-door cabs: can choose 2.67 metres high anti-roll (ROPS) shed and 2.69 m-high two door cab. Anti-roll (ROPS) shed includes a dashboard vandal resistant. Optional with heating, air conditioning or heating and air conditioning cabs that are, rapid maintenance and maintenance of the engine: very easy to open the hood, and maintenance can be carried out quickly on the engine. From an assisting engine hood, steel fences separate makes it easier to close to the radiator of the engine hood and hydraulic cooler. Level filters and the exhaust pipe of the engine and cowling separation, fuel and hydraulic fluid in the horizontal position, easy to operate, a thick rubber plate fixed on top of radiator surgical and fencing to protect and guaranteed method of the engine hood cover and side panels. Bumper is easy to replace. Bumper shell, fence, radiator, hood and side panels fixed on the frame. Engine hood and side panels with pegs to the front turning point for Hood adjustment below, automatically adjust the belt tension eliminates routine maintenance of engine belts. Fully synchronized four forward/reverse transmission, hydraulic drive clutch and clutch from button enables the machine to quickly shift according to road conditions. E-move forward/backward direction shift does not require manipulation of clutch. Due to the low operating force makes a smoother, faster job loop transforms, production more efficient. Optional heavy loads, four wheel drive, before external planets-driven swing bridge, increasing traction in rugged areas. By pressing the switch button in the machine, power mesh front wheel for mechanical transmission to increase traction and propulsion. Slide the machine case, two-wheel drive and four wheel drive mechanical locking differential work after guarantee provides maximum tractive force, continuous flow oil cooling to avoid overheating and increase service life.
Mining: ductile iron swing, boom and mining boom ensures maximum strength and longevity. Nodular cast iron makes the entire part length on the stress and deformation of more balanced. 2.87 meters wide and stable frame supporting position in backhoe and front loading bucket weight make the machine job, especially when rotated to the side very smooth. Use a flow control to adjust the pedal controlled mining part of assistive devices. Boom, the mining boom and bucket used for each individual cylinder with a width of only 229 mm, improved operational perspective, hose fixed at the top of the mining arm in order to avoid collisions between the Groove and bucket. It is easy to carry out maintenance or repair. Case bucket design allows you to jobs throughout the work, improved ability to dig the corner straight Groove and when loading effectively prevent the material Sala, and increased digging force. Optional quick coupling, only by the simple removal of a PIN and get out from the bucket you can fast and easy replacement of buckets or attachments.
Optional foot pedal pedals, with their overloaded rubber flat bottom of the soil cement combination pedal, or flip the pedal. Optional hydraulic telescopic extension mining arm, making it further dig dug deeper and unload unload. 4.51 m shrink can be used in the context of location work, 5.57 metres stretch position can be used, long digging arm straight ability to dig. Due to the small machine footprint, repairs or construction in the street is very easy. In addition, the long digging arm makes crossing obstacles like the wall next to the walls or in the Groove side stacked mounds very easy. With long mining arm of standard weight is 200 kg. Double tipping bucket and reverse-cylinder linkage can provide powerful digging force and rapid unloading cycle . Reverse the linkage enables the loading compartments in full when the tipping point in order to facilitate increased mining job stability and the bulldozing of the work of the machine. When the bucket is full tipping point, contraction of oil cylinder piston rod to avoid the torque caused by dozing and excavation work, cylinder design ensures are flat and loaded with good vision. Arched designed mount boom turning angle while working around the site more accurate.
Loading bucket control gearbox clutch button on the handle makes the loading cycle faster. Optional three-DOF, single front-mounted hydraulic load control handles all mounts, including the attachment . Mount job bucket assaulted peace to advance/regression function shortens cycle time, which improves the production efficiency of Mount . When angled mounts, jib and double flip lever 4 points supporting bucket, avoid the torque produced. Excellent dumping height and distance make the loading easier and more effective. Near the truck unloaded, steel fences and thick replaceable uninstall protection reduced front-end damage. Throughout the promotion process, automatic bucket level reduces the material overflow and ensuring the stability of walking. Special design of measurement valve Rod makes accurate of levelled by dug Groove of bottom is easy and in lifting heavy load Shi has good of can controlled sexual, mount and mining circuit in the of real gap valve makes reaction more sensitive, large oil cooling Manager and large of hydraulic tank clause oil good of cooling capacity, loaded in engine radiator front-end of hydraulic oil cooling Manager is easy clean, can for various for mining, and mount and manually annex of secondary hydraulic source, dug secondary hydraulic system is by Mount upgrade and tipping handles to control of, Optional manually-assisted hydraulic valve installed in the cab below the ladder on the right side so that you can quickly mix with such as submersible pumps, vibration and impact wrench connections.
---