Brief introduction:
The Kobelco SK120C01 series of hydraulic cartridge type adjustable pressure reduce valve is keeping the main pump output pressure lower and stable at 33bar, to control pressure.
It will lead the output pressure reduce valve lower to 33bar if the cone shape spool is not closed completed due to the dirty oil. It will not make any effect when turning the knob if the main control pressure too low always.
Leaving the pressure relief valve on the cone-shaped spool closed lax due to the oil is dirty , it will cause the output pressure of the pressure relief valve is less than 3.3MPa . In this case , regardless of the operating handle how operation , the control pressure is always low, the various working means of the main control valve spool moving amount is too small , resulting in the flow rate of the flow to the working device is also small , resulting in the whole weakness.
The oil to the working devices becomes little if the spool of the main valve is small amount of movement resulting in the whole weakness.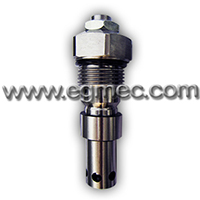 Kobelco Excavator SK120 Hydraulic Cartridge Type Pressure Reduce Valve